Saturday, March 5, 2022 | 4 p.m.
Tigers vs Gamecocks
Select Quantity
SEAT RESTRICTIONS: Clemson 101-106 / HRP / Berm / 4T3B / BBox A-E. South Carolina 106-112 / Berm / 4T 1B / BBox E-F. 803-726-4487 for more options. Segra Park is a CLEAR BAG VENUE. 8 ticket limit.
Available
Not Available
In Cart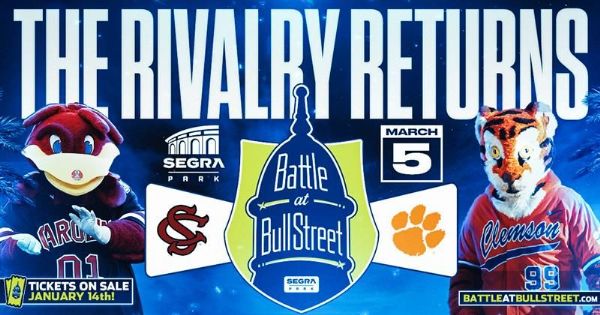 South Carolina Baseball is set to face off against Clemson Baseball at Segra Park Saturday, March 5. First Pitch is set for 4 pm; gates will open at 2 pm. Fan Fest presented by Discover South Carolina will take place in the BullStreet District from 12 pm-6 pm.