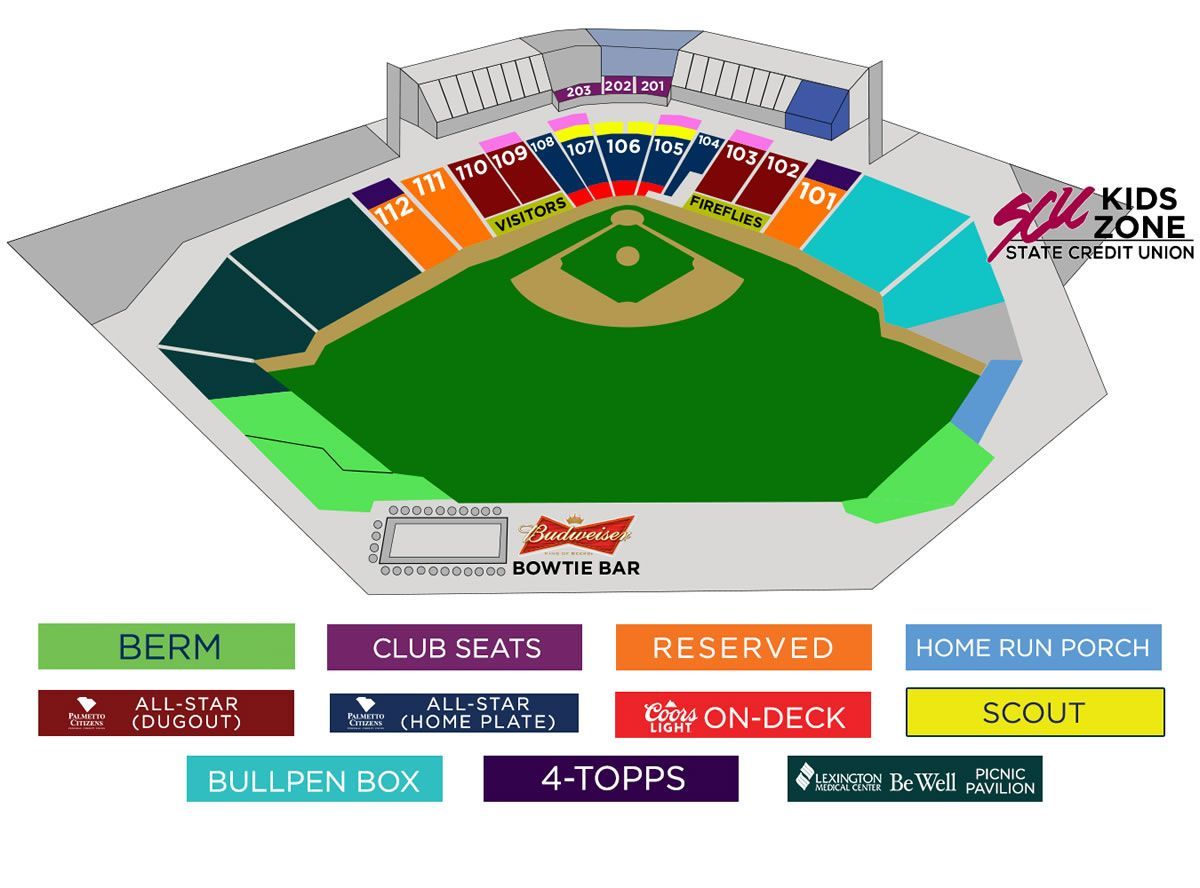 BERM SEATS
Bring a blanket and enjoy the most relaxed setting in Segra Park by kicking back on the Outfield Berm. The berms offer both sloped grass areas in right field and left field where you can spread out and enjoy the game on a blanket as well as a terraced lawn section in centerfield that is a perfect social setting for a night out. Berm tickets are the most affordable option in the ballpark.
RESERVED SEATS
Located just outside the dugouts these seats are close to the action with the first few rows having a view inside either the home or visitors' dugout. Each seat is accompanied by a cup holder and provides an extremely affordable option to enjoy the game.
PALMETTO CITIZENS FCU ALL-STAR SEATS
You will feel like an All Star in these seats located directly behind home plate and extending to the end of each dugout. Each seat will have its own cup holder and plenty of leg room. Every All Star seat will be situated behind netting so that you can enjoy the game with the safety of the net to protect from foul balls.
ON-DECK SEATS
These seats put you as close to the action as you can get, just like you are in the on-deck circle getting ready to face the opposing pitcher! The luxurious padded seats are located in the first 4 rows between the dugouts. Each seat has its own cup holder and will get you closer to the catcher than the pitcher is!
SCOUT SEATS
Perched at the top of the seating bowl, this high-end seating option provides all of the best amenities that you could ask for! Scout Seats feature padded seats, a food and drink rail, wide seating treads for lots of leg room as well as wait staff that will bring your food directly to your seat. Catch the action from the vantage point that a Major League scout would have at a big league ballpark.
BULLPEN BOXES
If you are looking for a complete dining experience at a baseball game, then look no further. Bullpen Boxes provide high top table seating for 4 guests located down the left field line directly behind the home bullpen. Wait staff will take care of your every need so that you can enjoy the company of friends, co-workers or clients in a relaxed restaurant style atmosphere. No need to wait in concession lines for your food in this unique seating option.
CLUB SEATS
Experience both a climate controlled bar and lounge as well as outdoor seating options in the exclusive Club Level. Here you will enjoy padded seats with plenty of leg room, a cup holder at each seat and wait service to deliver your food directly to you.